Get a professional SEO audit – an in-depth analysis of your website's optimization and potential…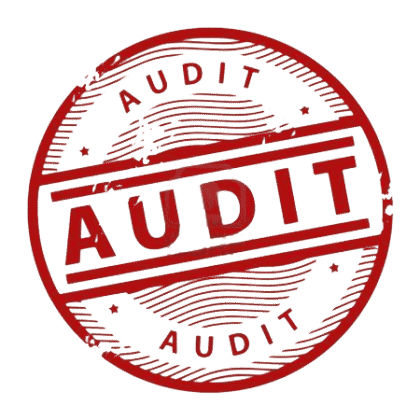 A complete SEO audit is the most important step in optimizing any website. Before you jump in and invest thousands of dollars in content marketing, or other
advanced SEO services
try to rank number one in Google searches,
make sure your website is really the best it can be.
Optimization is what the "O" in "SEO" really means, after all.
Focus On the Three Main Pillars of SEO
SEO is not just a simple checklist of things to do. There are thousands of ranking factors, but they can really be approached as three equally important areas: What you say, how you present it, and how it is distributed.
1 – On Page or "Technical SEO Audit"
If you have been doing SEO yourself, have an in-house search marketing team, or hired someone else to do link building or search engine optimization and are having some doubts about what has been done or if it is working, this full website analysis is for you. All the on page factors that can help or hurt your search results will be analyzed, making sure your site meets Google's Webmaster Guidelines.
2 – Link Profile Audit
We will also examine your link profile – check to see if the links you thought you were getting actually exist, and report on the quality and potential effects of your site's incoming backlinks. You will get useful, actionable recommendations on everything including site structure, navigation and usability issues, content quality, and "next steps" for future improvements in your search engine marketing strategy.
3 – Content Strategy Evaluation
Content is still king, even if that cliché is tired. We will evaluate your current content marketing strategy and compare it to that of your leading competitors, and advise on ways to improve your website's content.

Why Can't I Use Free SEO Tools To Analyze My Website?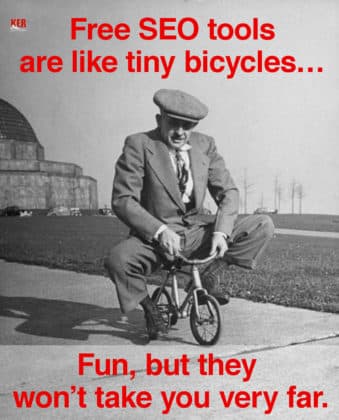 Anyone can run free SEO analysis tools that spit out generic reports that look like they say something important. When you get a professional audit of your website, what you are really paying for is the expertise of someone who will assess and analyze the data that is really meaningful, and translate it into something you can use to improve your website's search engine rankings and traffic.
This is not one of those automatic and humorously inaccurate "type in your website and we'll tell you a bunch of things that don't mean much" SEO website analysis tools you may have tried.
Those are OK for checking some of the basic technical things, but are not as useful as a comprehensive SEO analysis. Free SEO tools don't understand what your goals are. They simply run through a checklist of technical SEO items which are often based on outdated info or misconceptions. Unless the free SEO score tool was built very recently (like, this week), it is going to give recommendations that may be just plain wrong. Furthermore, most of the free website analysis tools will often give false warnings in an attempt to scare you into hiring the provider of the "free website analysis". Sometimes they even warn about things that aren't even a real ranking factor.

What Do You Get With An SEO Audit?
A Roadmap to Better Search Engine Rankings
We'd love it if it was just a matter of giving you a simple "SEO score" or grade, but it just isn't.
When you are ready to get serious about doing business online, Ker Communications will perform a thorough, in-depth analysis of your website, and provide a full report with detailed explanations and actionable information – not just a list of problems.
You do not have to commit to hiring Ker Communications for any further search engine optimization services, or anything else.
If you do decide to have us handle your search engine optimization needs beyond the anaylysis, we'll deduct the price of the review from the cost of ongoing SEO services for engagements of nine months or longer.
Our Audit Service Includes
(but is not limited to):
Thorough review of your website's design, structure and function
Technical SEO Check-Up – Crawlability, Indexation, and Code Issues
Check for and Advise on Best Practices and Impact on Search Visibility
Internal and External Linking Strategy
User Experience/Accessibility Recommendations
Analysis of your site's essential on page optimization elements
Content Strategy Review – How good/unique is it? Does it suit your goals?
Keyword Analysis – Using the right keywords? Overusing them?
Off Page – Incoming link report, social media presence overview
Indexing/Crawlability – Are search engines finding everything they should find?
"Next Steps" advice for on-page, content strategy and link building
Follow Up Consultation
Order Now
Cost: $800
Place your order and we will send you an invoice within a few hours (it may be a little longer if it is late at night. Real people are handling this, not auto-responders).
Once the invoice is paid, you will receive a confirmation and additional questions about your website and your goals.
Upon receiving your answers, we'll get to work. You will receive your complete report in about 2-3 weeks.
After that, we will follow up to make sure you understand everything and schedule a call if you need further explanation.
---
Find Out What Your SEO Company Is Really Doing
The number of shady, incompetent, or fraudulent self-proclaimed SEO experts is appalling. Even some well known companies still use outdated methods, or do almost nothing at all. It makes it difficult for a legitimate internet marketing company to gain your trust. At times we have even considered avoiding the term "SEO", since we do so much more to promote your business online. But we keep fighting the good fight, and continue to help businesses succeed honestly on the web. Our deep forensic analysis is a great way to keep your current SEO provider on the ball. It is kind of like when a company hires an "efficiency consultant" or some other hatchet man to help weed out lazy employees. But we are not out to steal you away from a good relationship. This will be a report on the good, the bad and the ugly things found. If your current SEO person is not too stubborn, he or she may learn something and will be able to improve upon what they have been doing for your website.
If you happen to be an aspiring optimizer and you are in over your head, this could be a good way to have someone check your work and find what you have been missing – and you will look like a hero.